The Seychelles will be open for holidays as soon as our travel restrictions are lifted! There will be no quarantine when you arrive in the Seychelles and you don't need to have had a Covid vaccine before you travel, you'll be free to discover this magical archipelago. You'll still need a negative PCR test taken 72 hours prior to departure and follow public health measures whilst in the Seychelles. What great news if you want to travel as soon as restrictions are lifted here in the UK.
For a Seychelles quote, call us
Island Hopping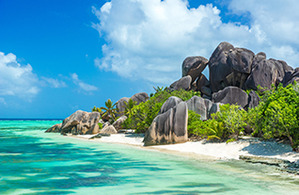 To get the full flavour of the Seychelles, why not visit more than one island? Combine a granitic island like Praslin or La Digue with a coral island like Denis and discover the unique personality and charm of each.
---
Island hopping in Seychelles
Island hopping is the only way to fully appreciate the beauty of the Seychelles. From giant tortoises to the giant Coco de Mer nut, from pristine beaches to magnificent coral or granite islands, our booking team have explored every option. With each island in the Seychelles holding its own unique personality and culture, why settle for visiting just one paradise isle when you can embark on an island-hopping adventure and uncover more?
Discover untouched shores, exotic wildlife, spot the pirates' graves at the nature reserve on Moyenne Island, or sample a fresh green papaya salad at Victoria on the main island – all stories you will love re-telling long after you land back on home soil.
Hilton Seychelles Northolme
7 nights in a King Sunset Villa
Return economy flights
Half board
Airport transfers in the Seychelles
Departs 13 September 2021
from £2,445 per person
Seychelles Hotels and Resorts
Soft sugary sands fringed by swaying palms and calm turquoise lagoons – your luxurious barefoot paradise awaits. Enjoy a total technology detox at the heavenly Denis private island or take a dip in your very own private plunge pool at Banyan Tree. Recline in the poolside chair and stare at the panoramic views of the Cote d'Or Bay at L'Archipel Hotel or why not embark on an island-hopping adventure and combine more than one island?
Denis Private Island
[Denis Private Island is] the perfect place to relax and disconnect from a busy life & schedule. The beautifully designed chalets with locally hand-made furniture are a pleasure.
For longer trips, a 30-minute flight will take you to Denis Private Island. The untamed wilderness, powder soft sand, and hand-crafted cabins make you feel like Robinson Crusoe… if he had air-con and a silky soft king size bed. And with limited telephone reception and Wi-Fi you can take a total technology detox and escape the screens for a while.
-oOo-
Constance Lemuria
-oOo-
Constance Ephelia
-oOo-
Hilton Seychelles Northolme Resort & Spa
-oOo-
Hilton Seychelles Labriz Resort & Spa
-oOo-
Kempinski Seychelles Resort Baie Lazare
-oOo-
Carana Beach
-oOo-
L'Archipel Hotel
-oOo-
Coco de Mer
-oOo-
Le Domaine de L'Orangeraie
-oOo-
Le Nautique Luxury Waterfront Hotel
-oOo-
Vallée de Mai
Discover the Vallée de Mai on the island of Praslin in the Seychelles, a UNESCO World Heritage Site. In this original Garden of Eden you'll find the Coco de Mer (the world's largest nut) and the elusive black parrot amongst many other treasures.
---
Sightseeing & Excursions in the Seychelles
Dive into the underwater haven, relax on a stunning beach and hike through tropical forests, the diverse landscape of the Seychelles means there is plenty for you to keep you busy during your holiday.
Water adventures
Grab your snorkel and dive in or keep both feet above the water to spot stunning marine life.
Climb aboard the semi-submersible Reef Safari to explore Sainte Anne Marine Park reefs without getting your feet wet. Then dive in for an unforgettable adventure in the fascinating underwater world.
Many island excursions can be reached by boat, this is the best way to see the island as you can cruise past stunning scenery and spot wildlife along the way.
Beautiful Beaches
Famed for its sugar soft sands, rock formations and turquoise oceans, enjoy real Beach bliss in the Seychelles.
Experience a thrilling trek along Mahé's palm-fringed northern coast towards untouched shores. Then enjoy a leisurely cruise back to Victoria aboard our catamaran Catalina.
Anse Source d'Argent beach is counted as one of the finest – and certainly the most photographed in the world. With its imposing granite boulders, soft powdery sands and crystal waters, paradise awaits.
Island exploration
Embrace island life, discover exotic wildlife and meet the friendly locals.
Enter the untouched Vallée de Mai National Park, where you can spot the native black parrot and the world's heaviest seed, the Coco der Mer.
Immerse yourself in the unique atmosphere of La Digue with a gentle bike ride, discovering the islands hot spots and the best places to eat.
All Photos © Beachcomber Tours