From secluded beaches to the Great Bear Rainforest, the top picks for living out the castaway vibe on a remote island all bookable for Autumn 2020 and 2021
Cape Fahn Hotel, Thailand
Fancy a private island offshore of another island? You can stand on Koh Samui's Choeng Mon Beach and, when the tide is out, actually walk across the 200-metre straight to the seriously cool and boutique Cape Fahn Hotel. The 22 villas have interior wow factor, with private pools, rain showers and a calming palette of muted colours. Tick off island moments such as the Moonlight Cinema and a private yoga class; or charter a yacht for the day so you can look back and see your island paradise from a new perspective.

Lonubo, Maldives
There are few places in the world you can have all to yourself. The Maldives is home to tiny islands, some with under 50 rooms for guests, but what if you want an island all to yourself? Maafushivaru Maldives has just had a luxurious facelift and has its own uninhabited sister island called Lonubo, which can be booked during your stay. It's a short boat ride away for a romantic picnic or candle-lit dinner under the stars – but, if you really want to make the most of the solitude, book an overnight stay. There is one villa on the island, tucked in among the trees. Sitting in the villa's hot tub, gazing up at the stars above and knowing no-one else is on the island is a luxurious, yet raw experience, worth banking in your memories.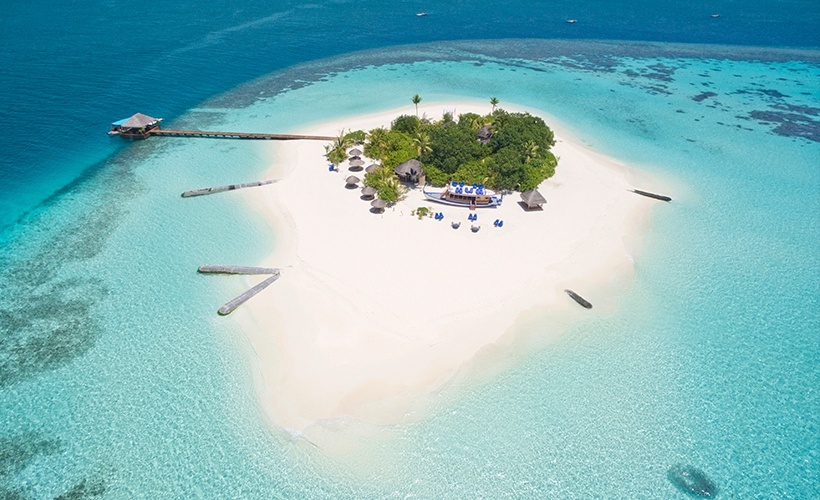 Belmond Eagle Island Lodge, Botswana
A safari lodge isn't the obvious choice for a secluded island holiday – but what a lodge. On a private island in the heart of the Okavango Delta, you'll find just 12 high-ceiling tents flooded with light, each with its own plunge pool and sweeping views of the Delta, best enjoyed while snuggled up in your big, comfy bed with a morning cup of coffee. Belmond Eagle Island Lodge has a focus on water-based safaris, so you can silently glide past hippos in a traditional canoe as fish eagles soar overhead. It's the perfect way to get up close to the wildlife of this UNESCO World Heritage Site.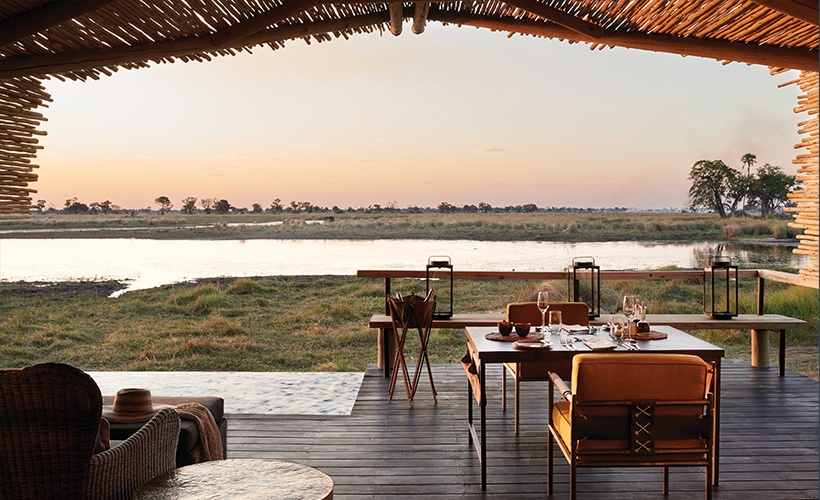 Pangulasian Island, Philippines
From Manila, it takes almost an hour by plane, 15 minutes by car and 45 minutes by boat to reach El Nido Resorts Pangulasian Islands. And that's the easy route. But is it worth it? The Philippines still feels off the tourist trail, somewhere that's bound to muster a few 'wow' reactions before you travel – and after your return. This retreat is on one of Palawan's unspoilt islands and it ticks all the boxes when it comes to soft sand, clear waters and a jungle backdrop, creating a pleasingly limited to-do list of relaxing on the beach, hiking in the forest and snorkelling or diving. The 42 Filipino villas are spaced out to give you a true sense of seclusion; and the resort's location makes the most of both sunrise and sunset in this special part of the world.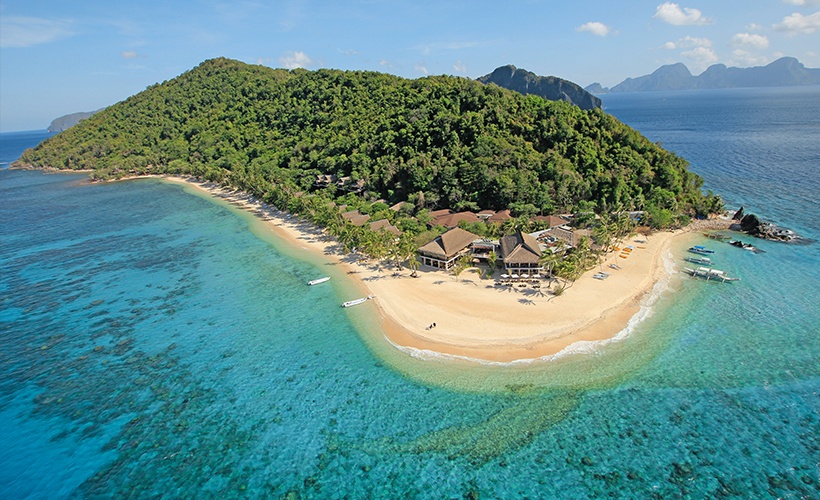 Niyama Private Islands
Niyama Private Islands is the epitome of cool, with an underwater music den and unique dining in a pod suspended in the treetop. This is one resort across two islands and the overwater pavilions and studios here are sleek, modern retreats, each with their own pool and steps leading into the lagoon. These water villas have the wow factor, with clean lines and incredible ocean views.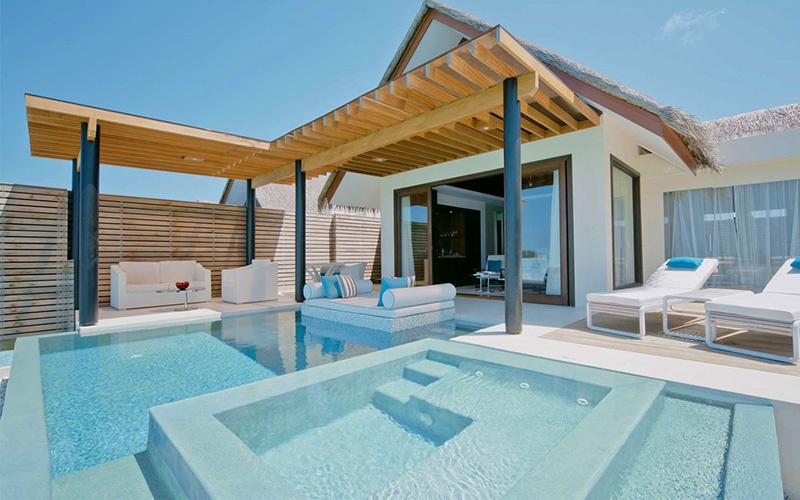 Berry Island, Canada
From Vancouver, it's a six-hour drive across Vancouver Island to Alder Bay, where you can hop in a 30-minute high-speed water-taxi ride to Farewell Harbour Lodge. The lodge is on the coast of Berry Island in British Columbia's Broughton archipelago, a pristine region famed for its grizzly bear population. The last part of the journey to the lodge could take longer than expected, as it's pretty easy to get side-tracked by sightings of feeding humpback whales, curious stellar sea lions and inquisitive Pacific white-sided dolphins. The lure of the lodge is its remote water-side location in the Great Bear Rainforest, days spent hiking, searching for grizzlies by boat and sea kayaking in nearby inlets and harbours.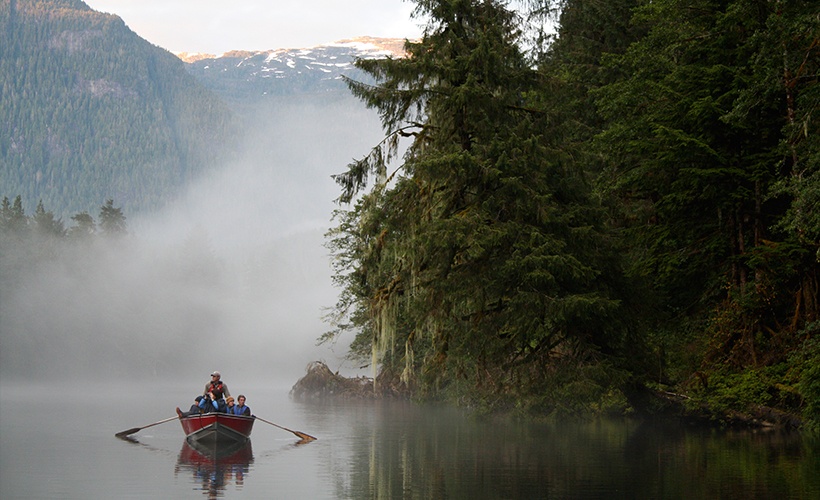 Bequia Island, Caribbean
Saint Lucia, Antigua, Barbados – we've all heard about the most popular islands in the Caribbean. But what about the island underdogs? There are over 700 islands, islets and cays in the Caribbean and Bequia Island is swept up under the umbrella of St Vincent and the Grenadines. This island is a tiddly seven square miles and can be reached on a 45-minute flight from Barbados, or 30-minute flight from Saint Lucia. The pretty island is charming, unspoilt and we're captivated by the retro Bequia Beach Hotel on Friendship Beach. The design is based on the 1950s, with a nod towards the glamour of Beverly Hills, with poolside cabanas and colourful cocktails delivered to your lounger.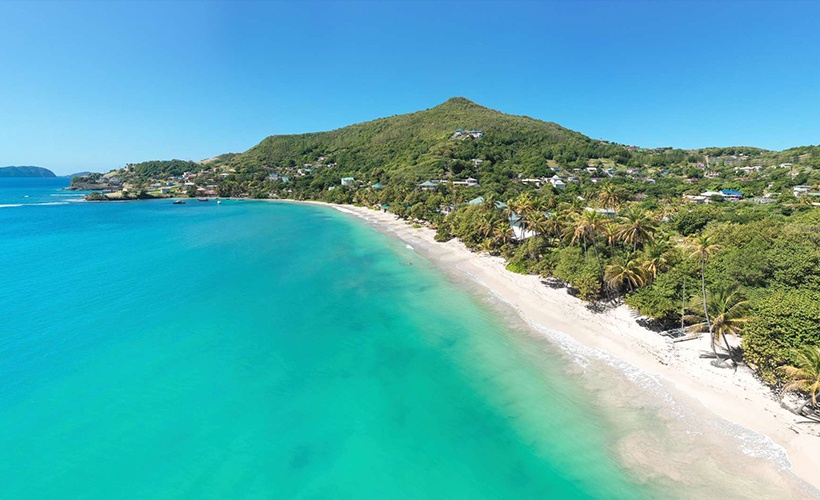 Kuramathi Maldives
This is one of our most popular islands in the Maldives and for good reason. Larger than most, Kuramathi Maldives has an incredible choice of villas and things to do on the island, with a whopping 12 restaurants and world-famous dive sites close by. Our favourite beach villas include the Deluxe Beach Villa, which faces the lagoon and has a four-poster bed, terrace and its own hot tub. If you're travelling with friends or as a family, opt for the Two Bedroom Beach House. These beachfront two-storey houses face the lagoon or reef; and have an amazing sundeck with its own daybed overlooking the beach.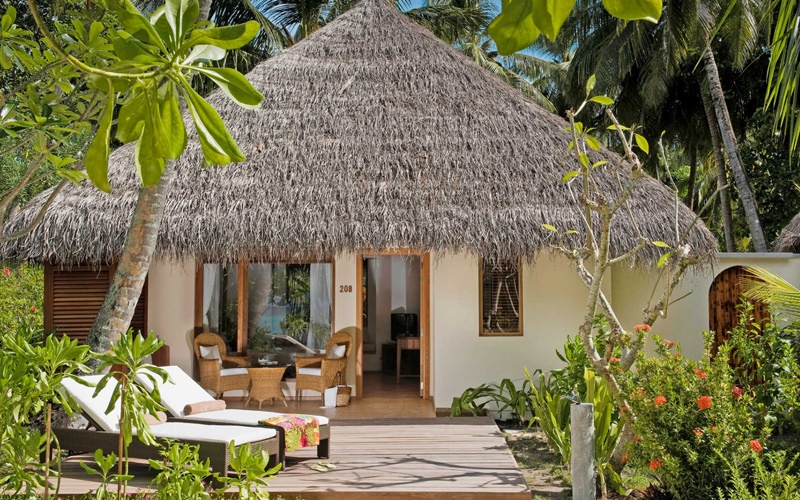 Emerald Bay, Pangkor Laut, Malaysia
If you're looking for an Asian beach resort with character, Pangkor Laut is the perfect spot. Its cooling pools and stunning water villas are the only sign of human life on the entire island, which sits on the Straits of Malacca off the west coast of Malaysia. Dense forest fills the heart of the island, lining the shores of Emerald Bay, and just a few minutes here will make you feel a million miles away from the everyday.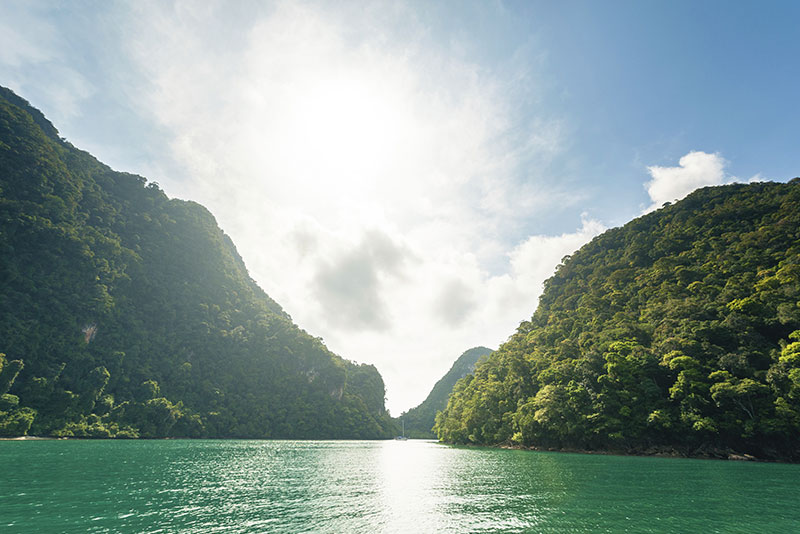 The "Secret Gilis", Southwest Lombok
By now, everyone has heard of the Gili Islands. Renowned as quiet, tranquil and secluded, these three islands, found off the northwest of Lombok, are made up of lively Gili Trawangan (affectionately known as 'Gili T'), backpacker paradise Gili Air and quiet Gili Meno. But hidden away to the south are the lesser-known Southwest Gilis – the "Secret Islands". Thirteen largely uninhabited islands, these are one of Indonesia's best-kept secrets. Colourful coral, deserted beaches and hidden coves make it impossible to choose just one spot worth visiting here, so we recommend chartering a boat and pulling up on beaches so remote that only the locals know their names.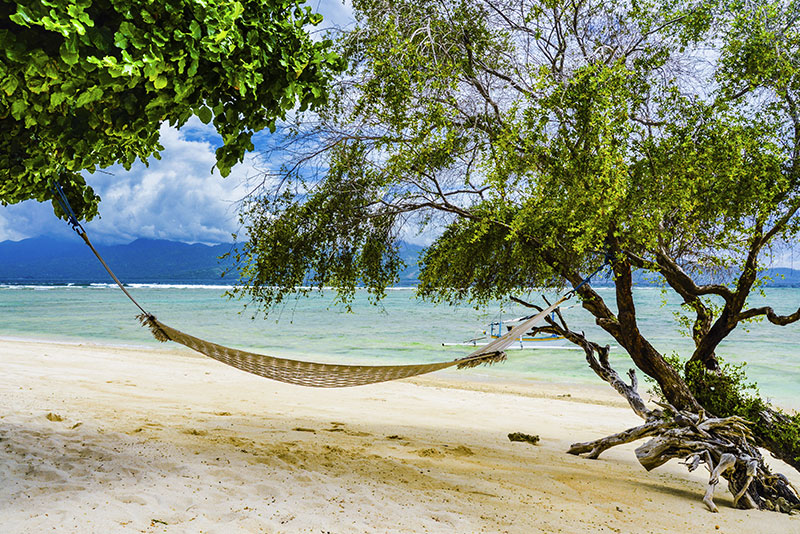 Kandolhu Maldives
Kandolhu Maldives is one of the smallest islands we offer but packs a punch when it comes to the 30 super-sleek villas on the island. Opt for a luxurious two-storey Duplex Pool Villa for a huge beach villa set right on the sand. The outdoor deck on the upper level offers incredible views of the Maldivian sunsets and the private pool adds a little indulgence right next to a stunning stretch of beach.
"The Villas on Kandolhu are jaw-dropping and have the most incredible bathrooms with a beautiful free standing half-moon bathtub."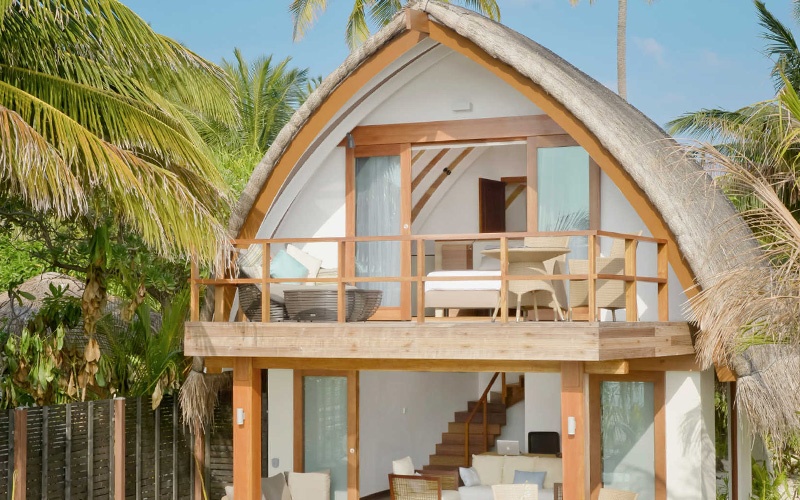 Ao Kiew (or Ao Kio), Koh Samet
When you think "Thai island paradise", your mind almost immediately springs to the south – to Koh Phangan, Koh Samui and Koh Lanta. But to the north, just a few hours' drive south of Bangkok, is a local favourite – the quiet isle of Koh Samet. Hop aboard a boat from the mainland and you'll find yourself surrounded by white sands and tranquil azure waters in just 45 minutes. At the southern tip of this peaceful little world, you'll find the pretty Paradee all-villa resort. Spanning the small width of the island, there are two beaches here that are guaranteed to impress, offering the rare opportunity to enjoy both sunrise and sunset to a sparkling sea view.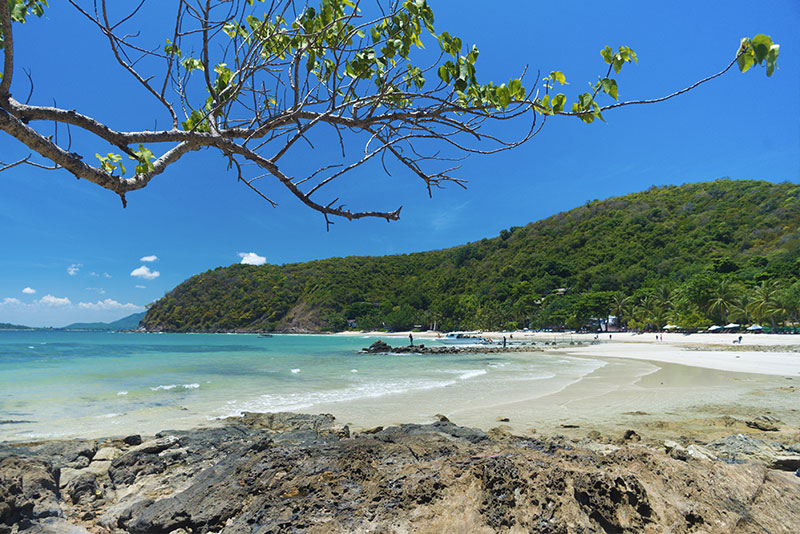 Secret Beach, Matinloc Island, El Nido, Philippines
While Thailand's famous Maya Bay was the setting for Alex Garland's novel "The Beach", the Philippines' Secret Beach was the inspiration. This pristine beach in the El Nido region of Palawan is definitely one for the daring. To get here, you have to take a boat out and swim through a cave, but once inside, the shallow waters of the lagoon barely reach your knees and grey cliffs tower around a thin strip of untouched golden sand. Our nearest resort to this hidden piece of paradise is El Nido Resorts Pangulasian Island, a ultra-luxe hideaway set between its own white sand beach and the dense tropical rainforest.
Gili Lankanfushi
One of the world's best resorts, Gili Lankanfushi is luxury and glam with an understated vibe. All of the 45 villas here are overwater – but they are astounding huge palaces on stilts, with some only accessed by boat! Each one has an overwater sun-deck with loungers, a hidden roof-top sun deck with day beds, and butler service to cater for your every need.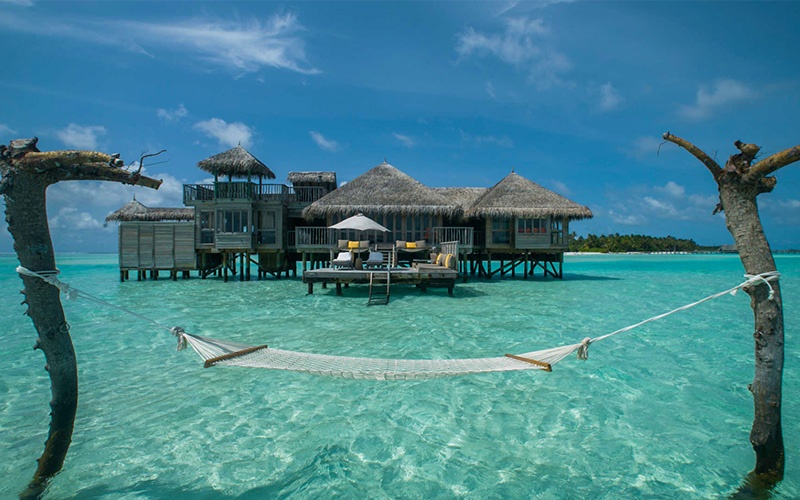 Ban Chan Beach, Halong Bay, Vietnam
The beaches of Halong Bay have become increasingly popular, making it hard to find one that isn't packed with visitors. Of course, the best way to see the wonders of the bay is on a cruise, and two nights aboard the Au Co ensures that you get to see one of the region's few remaining hidden gems – Ban Chan beach. With a primitive and rare undiscovered feel that's hard to find in the waters around Halong Bay, you can wander the length of these beautiful sands unimpeded by the billboards and crowds that you'll find on other nearby bays.

Loh Pared Bay, Koh Yao, Thailand
Although extremely close to Phuket and Krabi, the small islands of Koh Yao Yai and Koh Yao Noi remain surprisingly untouched. Barefoot-chic is probably the best way to describe the laid-back feel of the islands, with the larger of the two, Koh Yao Yai, the more surprisingly undeveloped. Santhiya Koh Yao Yai Resort and Spa on Loh Pared Bay has one islands' best beaches, and while it may lack some of the beauty of its neighbours on Phuket, its real appeal lies in its tranquillity.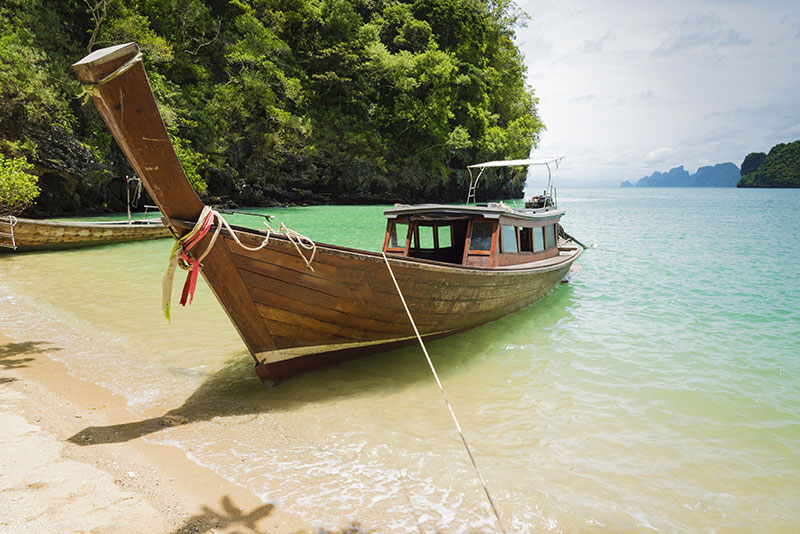 Baros Maldives
The small yet stunning island of Baros features some of the most luxurious water villas in the Maldives and you can upgrade to a Water Pool Villa for the use of your own private plunge pool. Each has an espresso machine, wine chiller and of course, a spacious wooden jetty with panoramic views of the ocean. You'll also have your own villa host to make the most of your stay. There's a real emphasis on the bespoke here, from dining to diving, and experiences can be created just for you.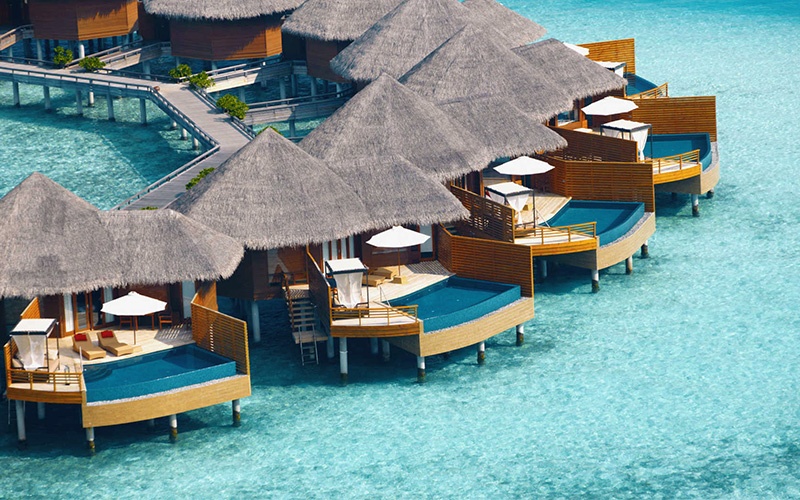 Glass-floored villas in the Maldives
For something truly special, why not take your overwater villa experience to the next level and see the ocean life beneath you in a glass-floored villa.
North Island, Seychelles
Set foot on your own private island in the Seychelles. Infinite, exclusive space where the embrace of lush tropical palms and giant granite peaks dwarf your presence with their drama. With just 11 villas on this property, your footprints will be the only evidence on the Island's vast, untouched beaches.
North Island epitomises the freedom that complete privacy allows, extraordinary experiences, perfectly personalised to your preferences, and service that is generously big-hearted. The Island's abundance naturally extends to the luxury of choice that a peerless all-inclusive offering provides. Experience a true barefoot-luxury escape on North Island.