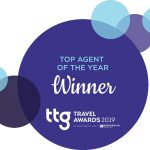 Andrew Rowdon is Shortlisted for Three National Travel Award Nominations is Named Best Agent in the UK
It's been a fantastic year for Andrew Rowdon of Andrew Rowdon Travel, based in Trimley St Mary (Felixstowe) Suffolk, having been nominated for three of the UK travel industry's most prestigious awards this year, including: Kuoni's luxury agent of the year; Travel Weekly's Agent Achievement Awards for Leisure Agent of the year; and TTG's Travel Awards for Homeworker of the year.
Andrew has been working in the UK travel industry as a travel specialist for more than 35 years and this year is also celebrating his 10th year anniversary of running his own business.
Andrew said:  "2019 has been one hell of a year for me and my business. Being nominated as a finalist for three of the industry's most recognised awards is an absolute privilege and is amazing recognition of all the years of hard work and effort, I have put into building my travel business."
The Kuoni awards took place in June at The Crazy Bear Hotel in Oxford with many of the UK's most senior travel professionals in attendance. "It was a great night and although I didn't win to be nominated as one of the eight finalists is a major achievement in itself, especially as Kuoni is one the biggest and most well-known travel brands in the travel industry," he added.
Travel Weekly's Agent Achievement Awards were held at the prestigious Park Plaza Westminster Bridge, London in July and Andrew was one of six finalists for the Agent of the Year award. ''Another great night and great to be appreciated for my hard work''.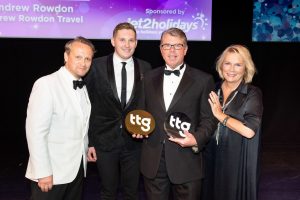 The most recent TTG Travel Awards took place at the Lyceum Theatre in London's West End (home of the Lion King) on September 16, co-hosted by actress and comedian Jennifer Saunders. The glittering awards ceremony was attended by 700 travel industry figures and Andrew was named 'Homeworker of the Year' before going on to beat six other winners to take home the 'Top Agent of the Year' trophy.
The TTG Judges said: "We were hugely impressed by Andrew's constant drive to grow and innovate, despite having more than 35 years' experience in the industry. We noted his vast product knowledge, clever strategy and an extraordinary commitment to delivering personal service – which have all contributed to an outstanding year for this well-respected individual."
TTG group editor Pippa Jacks went on to say: "The TTG Travel Awards recognises the incredible travel consultants who deliver extraordinary customer service and expertise for their customers every single day and Andrew has proved he is the best in the class.''
Commenting on the TTG award, Andrew said: "The TTG Travel Awards are recognised as being the toughest to win in the UK and Irish travel trade. I am absolutely delighted to be recognised in this way. It really is a dream come true."
Kuoni along with two of the UK's largest travel publications – Travel Weekly and TTG – are regarded as universal benchmarks of quality within the travel industry.  The rigorous judging process involves over 30,000 agent ratings combined with judging from elite industry experts, making these industry awards the most coveted industry accolades.
Andrew believes that the key to his success has been listening to what his clients want and making it happen, questioning them when necessary and always being available to answer any questions, even out of ours and weekends.  He said: "Basically, I offer just a good old-fashioned service. I take great pleasure in ensuring every holiday booking, honeymoon or overseas wedding I am asked to research is treated as a trip of a lifetime. Looking after my clients is key, both over the phone, via email or face to face, as we offer private consultations – it really is just about building trust and relationships, so am delighted to be recognised for my work. I am also flattered to be up against some of the top agents in the country, especially in a year in which I am celebrating the business's 10-year anniversary."
Andrew has made a conscious effort this year to move away from the trend of social media and says that if you look after your clients well, not only do they keep coming back, but they recommend you to their friends and family. He continued: "After taking this bold decision my business has actually benefited and I have had the most successful year to date. It is such a great achievement to have been nominated for these three awards this year and to win not one, but two awards is just be the icing on the cake.